---
Sales Representative
Mrs.Hou
+86-022-87987163
+86-18202289663
18202289663@163.com
18202289663
18202289663@163.com
Monday to Sunday: 8: 30 ~ 18: 00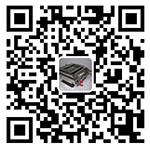 About Us

Tianjin North Star Technology Co., Ltd. is a professional equipment manufacturer dedicated to the magnetic separation industry. Relying on the international leading magnetic separation and vibration conveying technology, it aims at designing and manufacturing high-performance equipment to provide the industry with high-performance and high-quality designed magnetic sorting, magnetic automation and vibration conveying equipment. With rich application experience in professional and technical fields, we can solve the problems encountered in product processing, purification and quality review for enterprises.
Contact Us
Electro Magnetic Drums
Electro Magnetic Drums
---
The electric magnetic pulley is used to effectively sort large pieces of magnets and fine ferromagnetic particles from non-magnetic materials, maximally protecting downstream equipment from damage and realizing automatically iron removal.
Detailed Description
Electric magnetic drum separators are used to separate tramp iron from bulk material of all kind. Bulk material is fed via a chute or vibrating feeder to the separator and is conveyed by the rotation of the drum casing. Magnetic particles are attracted by the internal permanent magnet, whereas nonmagnetic particles follow their flight path determined by inertia and gravity. The attracted material is conveyed by the drum shell to the end of the magnetic field and dropped to the other side of an adjustable splitter.
Design principle
As material reaches the drum, the magnetic field attracts and holds ferrous particles firml to the drum shell. Whereas the non-magnetic material is thrown forward by gravity and inertia, thereby achieving the automatic separation of ferromagnetic and non-ferromagnetic materials.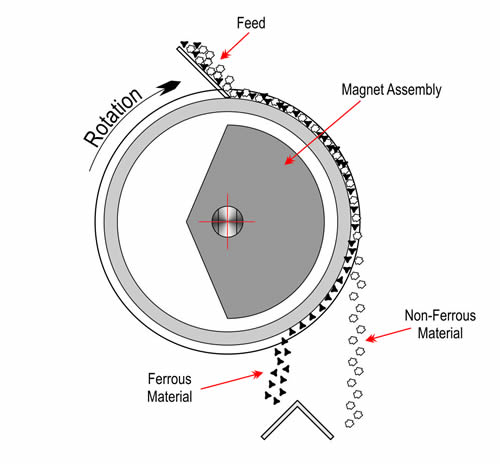 Characteristics and advantages
High magnetic forces
High availability
Rotary drum shell and adjustable magnetic filed angle ensure a best separation effect
Prevent machinery damage, prevent product contamination
Automatic iron removal is suitable for automatic production line
Optional configuration
Optimized solutions with radial or axial oriented magnetic fields
Multiple designs, tailor-made to the application
Ends of shaft made according to clients needs
Application
Continuously and automatically separate magnetic impurities or ferromagnetic materials from a variety of materials. Improve product purity and protect downstream equipment.
Material handling
Coal, foundry, sand and gravel, cement, glass,ceramics, food, feed,recycling and waste, wood chip, chemicals, plastics, mining, magnesite