---
Sales Representative
Mrs.Hou
+86-022-87987163
+86-18202289663
18202289663@163.com
18202289663
18202289663@163.com
Monday to Sunday: 8: 30 ~ 18: 00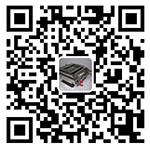 About Us

Tianjin North Star Technology Co., Ltd. is a professional equipment manufacturer dedicated to the magnetic separation industry. Relying on the international leading magnetic separation and vibration conveying technology, it aims at designing and manufacturing high-performance equipment to provide the industry with high-performance and high-quality designed magnetic sorting, magnetic automation and vibration conveying equipment. With rich application experience in professional and technical fields, we can solve the problems encountered in product processing, purification and quality review for enterprises.
Contact Us
Eddy Current Separator (ECS)
Eddy Current Separator (ECS)
---
Eddy current separators, designed for new recycling industry, purify large bulk streams and separate non-ferrous metals for reuse from recycling. In recycling industry, eddy current separators usually cooperate with other sorting equipment to separate high purity and high quality recycling products.
Detailed Description
Eddy current separator is an effective method for recycling non-ferrous metals. It is composed of a conveyor belt system with a rapidly rotating magnetic rotor that creates an induction field by means of magnetic poles. The eddy currents generated by induction field affect the trajectory of non-ferrous metals. This rotation can be either concentric or eccentric. All our eddy current separators are based on centric or eccentric design. Angle setting of the magnetic rotor is done manually. With the refined angle setting it is possible to achieve a high separation yield of the material flow being treated.
Design principle
Eddy current separators have a conveyor belt system with a high-speed magnetic rotor at the end. The rotation speed of the magnets generates an induction field, creating a rapidly changing magnetic field. The separation is based on the principle that every electrically conductive particle located in an alternating magnetic field is temporarily magnetized. Through the induction of eddy currents and the resulting repelling forces, the alternating magnetic field selectively repels the non–ferrous metals and physically separates them from other materials with minimum product loss.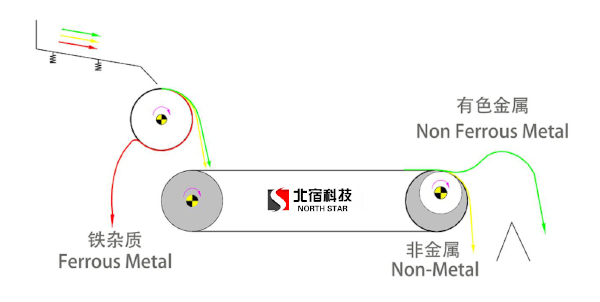 Characteristics and advantages
All eddy current separators are based on an centric or eccentric design
Design of magnetic rotor optimized to the application
High intensity magnet rollers are suitable for small fractions and weakly magnetic non-ferrous particles that are both difficult to separate
Control cabinet including adjustable speed of rotor and belt
Optimal combinations with other recycling devices
Optional configuration
FEM calculation to simulate the deepest magnetic field matrix
Match different magnetic element design according to actual application
Multi-magnetic pole design satisfy separation requirement of different particle sizes
Can set the eccentric angle of the magnetic rotor according to actual needs
Application
Separate aluminum, copper and other non-ferrous metals for products with high purity from materials, municipal solid waste, waste residue, and other recyclable resources.
Material handling
Automotive dismantling lines, wood, glass, plastic, mining plants, scrap metal recycling, metal foundry, waste incineration