---
Sales Representative
Mrs.Hou
+86-022-87987163
+86-18202289663
18202289663@163.com
18202289663
18202289663@163.com
Monday to Sunday: 8: 30 ~ 18: 00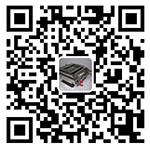 About Us

Tianjin North Star Technology Co., Ltd. is a professional equipment manufacturer dedicated to the magnetic separation industry. Relying on the international leading magnetic separation and vibration conveying technology, it aims at designing and manufacturing high-performance equipment to provide the industry with high-performance and high-quality designed magnetic sorting, magnetic automation and vibration conveying equipment. With rich application experience in professional and technical fields, we can solve the problems encountered in product processing, purification and quality review for enterprises.
Contact Us
Magnetic Rollor Separator
Magnetic Rollor Separator
---
High intensity magnetic roller separator is a new and powerful permanent magnetic separator. It is mainly used to remove weak magnetic iron impurities mixed in powder or pellets from the raw material or finished product production line.
Detailed Description
Powerful magnetic roller separator is a kind of NdFeB permanent high gradient magnetic separator. The utilization of extremely powerful permanent magnetic circuit design guarantees better separation results. Before the material passes over the roller magnetic separator, it is necessary to filter out as much ferromagnetic impurities as possible to achieve the best iron removal effect. To get better effect, the material usually needs to be fed to the magnetic roller surface by the vibration feeder chute.
Design principle
Powerful magnetic roller separator evenly convey the material to rubber belt rounded on magnetic roller by vibration chute. Because of magnetic force, the magnetic field attracts and holds ferrous particles firmly to the drum shell. Whereas the non-magnetic material is thrown forward by gravity and inertia, thereby achieving the iron automatic separation.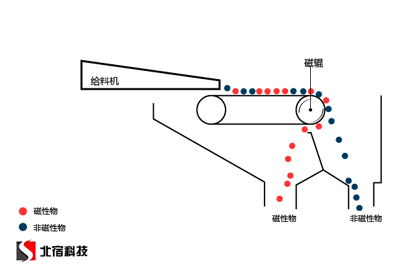 Characteristics and advantages
Surface field strength up to 14000 Gauss, used for high purity purification
No downtime for automatic iron unloading
Cantilever design which allows for quick belt replacement
All stainless steel constructure, compact, modular design
Treat wide range of particle sizes
Consistent and controllable feed via electromagnetic vibratory feeder
Optional configuration
A variety of magnetic circuit and temperature tolerance criteria are available
Surface treatment can be sandblast or polish
Optional sealed dust cover and transparent observation window
Optional single, double, and triple stage machines
Application
It is used to purify or enrich non-magnetic materials, and is often used in applications where the product needs high purity.
Material handling
Industrial minerals, abrasives, plastics, food, pharmaceutical, recycling, metal and special materials processing